View Gallery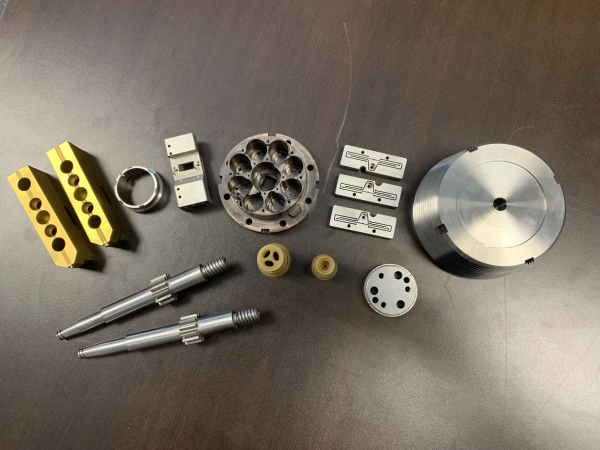 Custom Capabilities & Manufacturing Services
At Duo-Tec Tool & Machine, we have created customized manufacturing processes to meet our customers' unique requirements for over fifty years. We have the advanced production resources and capabilities to work with many industrial sectors, including medical device manufacturing, aerospace, military & defense, and more highly demanding industries. We also develop and advance the technologies used in the commercial production of gift cards, disk drives, and automotive components. We are a full-service custom machining company that offers a wide range of manufacturing capabilities, including: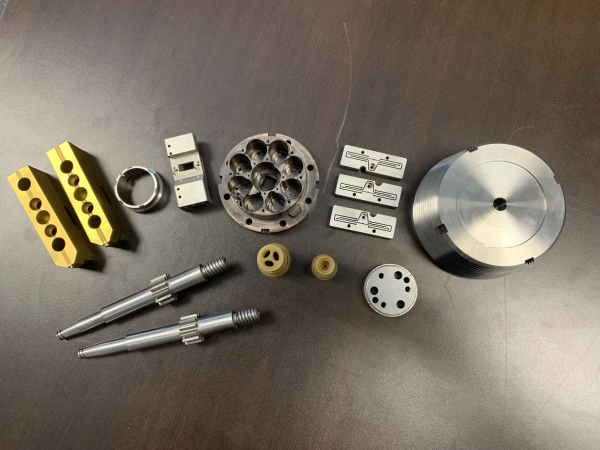 Advanced Manufacturing Services at Duo-Tec Tool & Machine
At Duo-Tec, we can take on any size project at any stage. Our engineers specialize in building blueprints and solid models from concepts. We can create prototype components and develop them through to production. We can produce small or large volumes of parts or build full assemblies. At Duo-Tec, all of our manufacturing capabilities are housed under one roof, allowing us to move efficiently from one process to the next for your project's timely completion.
Full-Service CNC Machining, Milling, & Turning
CNC machining is a manufacturing process that utilizes computerized controls and tools to automate the production of precise parts and components. It uses pre-programmed software to direct the movement of cutting tools and other machinery. CNC turning can produce many components, including shafts, valves, screws, fittings, and gears.
CNC-machined parts are used in high-performance applications, including engine components, aircraft parts, medical devices, and electronic enclosures. CNC machining provides several production advantages, including increased accuracy and repeatability, fast turnaround times, and the ability to produce complex geometries that are difficult or impossible to create manually.
Custom EDM Machining Capabilities
EDM (Electrical Discharge Machining) is a process of shaping and cutting electrically conductive materials using an electrically charged wire or electrode. The process involves immersing the workpiece in a dielectric fluid and positioning the electrode close to it. The electrode is then energized with a high-frequency pulse generator, creating a spark between the electrode and the workpiece that causes a small amount of material to be vaporized and removed.
EDM is commonly used to create intricate shapes and patterns in hard, heat-treated, and difficult-to-machine materials, including steel, titanium, and other strong metals. EDM can achieve high accuracy and precision, making it a popular choice for creating small, complex parts and prototypes.
Custom Laser Marking Services
At Duo-Tec, our customers often require their components to include identifiable part numbers, bar codes, cage codes, or company logos after production. Our onsite LASEREVO Laser Marker allows us to perform these identifying markings efficiently on all types of metals and plastic surfaces.
Precision Stamping Dies
We have several die-cutting capabilities optimized for different die-stamping applications. Our progressive dies can quickly produce large volumes of highly accurate parts through a series of presses. Compound dies produce simple and repeatable parts by making single or multiple cuts with one "hit" from a die. Blank dies are designed to cut flat material into a desired shape.
Form Tooling Capabilities
We also specialize in producing custom tooling. We can build specialized tools that act as a die to bend or form your custom parts or components. Duo-Tec's engineers work closely with our clients to create one-of-a-kind tooling for even the most demanding projects.
Innovative & Customized Manufacturing Services for Your Industry
At Duo-Tec, we are in the business of innovative problem-solving. We manufacture custom components and specialized machined parts that create solutions for nearly any industrial application. Our customers include military & defense companies, medical device manufacturers, aerospace manufacturing, and commercial production companies. Located in Maple Grove, Minnesota, our production capabilities allow us to produce custom parts for customers nationwide. Duo-Tec is a "one-stop shop" for precise, high-quality custom manufacturing services.
Contact Us to Learn How Our Full-Service Capabilities Can Help You Succeed
Contact us
 today for more information about our custom production services. You can also 
request a quote
 for additional pricing information. Duo-Tec Tool & Machine is your trusted source for
high-quality machined components
and custom production services.