Custom CNC Machining/Milling Services
CNC Vertical Machining Centers Components with Amazing Accuracy   
The Medical Device, Aerospace and Defense industries rely on Duo-Tec Tool & Machine to provide them with intricate high quality components, held to the closest tolerances.  Our CNC Vertical Machining Centers produce custom designed components with amazing accuracy.  At Duo-Tec Tool & Machine we take your project's SOLIDWORKS® (CAD) design or model and develop a computer program (CAM) to operate one of our 4-Axis CNC milling machines. Once programmed, computerized controls on the CNC Machining Center work efficiently to angle and rotate cutting tools in positions on X-Y-Z coordinates, while the material remains stationary. With multiple-axis cutting tool positions, we provide our customers with customized precision components that we can easily duplicated in small or large volumes. Components can be fabricated with a wide variety of materials depending on the properties needed for their application. Metals such as Aluminum, Stainless steel or Tool steel are most often used in parts that require high strength, hardness and thermal resistance. Plastics such as Delrin®-Acetal, Polycarbonate and PEEK are lighter weight materials, often used in applications that require chemical resistance or temperature resistance. To manage your project's budget and achieve the highest quality components we will also consider material costs and its machinability.
7 CNC Vertical Machining Centers with 4 Axis
SOLIDWORKS® (CAD) design to CAM program (MASTERCAM, CAMWORKS, ESPIRIT)
Fabrication with wide variety of materials
Incredibly Skilled Team of Machinists that specialize in CNC Vertical Machining
Ability to produce small or large volumes
Assemble and Ship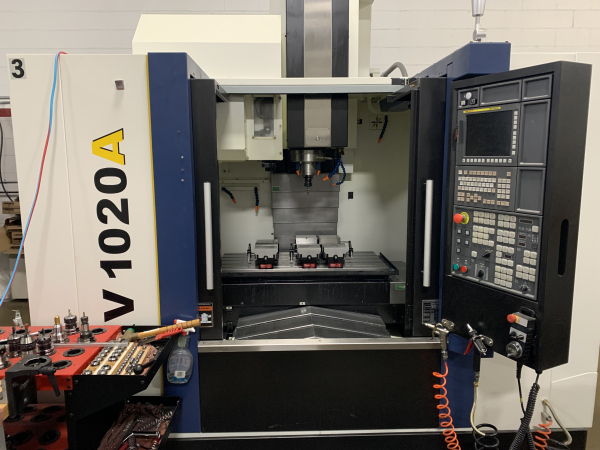 Contact Duo Tec Today
Duo-Tec Tool & Machine proudly works with industry leaders to support and advance new technologies adapted and applied to Medical Device, Aerospace and Defense components. We will use our years of experience working with a variety of materials to customized your project and provide for you the highest quality of components, in their required volumes on a schedule that best meets your needs. Contact us to discuss your project in greater detail. We are confident we can support your project in any way!